Yue (Michelle) Chen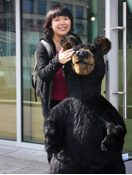 Yue (Michelle) Chen received her BA in Psychology in 2008 from Beijing Normal University (China) and her MA in Applied Psychology in 2011 from the Institute of Psychology, Chinese Academy of Sciences. Yue (Michelle) came to Canada and started her PhD at UBC in September 2011. Between 2008 and 2011, she worked on various research projects related to organizational behavior and management psychology. She is currently working as a research assistant on a project that focuses on the assessment of historical thinking. She is very interested in cross-cultural and large-scale assessments, especially the validity and fairness issues in these assessments. She is also interested in psychometric issues in personnel selection.
Shawna Goodrich

Shawna completed her B.A. in psychology and her M.S.W. from Simmon's College in Boston. She moved to Vancouver in 1997 and was appointed the Clinical Director of St. Paul's Eating Disorder Tertiary Program from 1997 to 2002. In 1998, while attempting to settle on a discipline to pursue doctoral studies, she enrolled in several graduate courses including statistics with Dr. Kadriye Ercikan. At that time, Dr. Erickan encouraged her to apply to the Measurement, Evaluation and Research Methodology (MERM) program; however, she went on to pursue her doctorate in the department of sociology. Several years into her doctoral studies, she knew she had chosen the wrong discipline. Twelve years elapsed before she heeded Dr. Ercikan's advice and returned to pursue an MA in the MERM program. During her hiatus, she had children and worked as a freelance writer and consultant. Shawna defended her M.A. thesis in December 2013. For her thesis, she examined test equivalence between French and English language versions of the Progress in International Reading Literacy Study 2011. Shawna is now a Ph.D. student in MERM. Her interests are large scale assessments, curriculum and program evaluation, test equity across different cultures, languages and socioeconomic groups and assessment development. Although, she accepts that her interests may change at any time because one never knows what is around the next corner.
Jenilyn Ledesma
Jenny is currently a full time doctoral student with the Center for Cross Faculty Inquiry in Education (CCFI) at UBC. Her research area focuses on language assessment. She is interested in the use of technology to enhance basic literacy skills of L2 young learners, as well as developing measures / tools to assess their skills development. Before coming to UBC, Jenny has completed her Master of Philosophy Degree at The University of Hong Kong, and a Master of Education Degree with the University of Western Australia. She was affiliated to several higher education institutions in Hong Kong, and her work experience has incorporated theoretical, practical (developmental and facilitative), research as well as administration. Jenny has only been in Vancouver for a year, but she is already enjoying what the city has to offer. During her spare time, she does what she does best – being a mom to 3 kids.
Ruichao (Richard) Li
Ruichao (Richard) Li started his MA Studies in Measurement, Evaluation, Research and Methodology at UBC in the year of 2014 under the supervision of Dr.Kadriye Ercikan. Before coming to Vancouver, he had one year's working experience in organizing a community English teaching program, and another year's working experience in teaching standardized tests of English language proficiency, i.e.TOEFL and IELT. These experiences cultivated his interests in educational measurement. Currently Ruichao (Richard)'s interests are mainly in language assessment and Item Response Theory.
Annay Slabikowska
Annay is a Master of Arts student pursuing her studies in the Measurement, Evaluation, and Research Methodology program at UBC under the supervision of Dr. Kadriye Ercikan. Since completing a Bachelor of Business Administration in Marketing at Simon Fraser University in 2006, she has worked in the marketing research and communications fields, and is currently employed as a research analyst in the office of Institutional Research at the British Columbia Institute of Technology. Annay's interests include factors that can bias human subject responses in social sciences research.
Rida Waseem
Rida received her B.Sc (Hons.) degree in Psychology from York University, Toronto. She is a Master of Arts student in Measurement, Evaluation, and Research Methodology (MERM) program at University of British Columbia.  She is currently working as research assistant in CARME lab. She is interested in validity and fairness issues in the assessments.